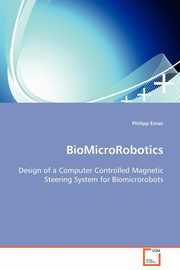 BioMicroRobotics
Wersja papierowa
Wydawnictwo: OmniScriptum GmbH & Co. KG
ISBN:

978-36-390-9432-9


Format:

15.2x22.9cm


Liczba stron:

164


Oprawa:

Miękka


Wydanie:

2008 r.


Język: angielski

Dostępność:

dostępny




Robotic explorers allow investigating environments that are difficult if not even impossible to reach for humans. The usage of microrobotic systems permits to obtain detailed knowledge of various micro) environments that were not accessible with former techniques. Furthermore, microrobots can be used to specifically alter the explored milieus. A potential application for microrobotic systems is medicine. Propelling/steering microrobots through a human body is a task that requires for fulfilment the implementation of different fields of knowledge.
The author, Philipp Exner, outlines the basic questions of how a computer controlled magnetic steering system that is based on Helmholtz and Maxwell coil configurations can be designed to propel/steer a microrobot in a vitreous body or within blood vessels.

The presented book describes the basic principles of popelling/steering a microrobot with external magnetic fields. Furthermore, different approaches for the design of such a steering system are evaluated and discussed. The essay provides an interesting overview for everybody who starts to work on microrobot propulsion systems using external electromagnetic fields.