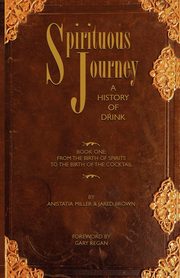 Spirituous Journey
A History of Drink, Book One
Wersja papierowa
Wydawnictwo: Mixellany Limited
ISBN:

978-09-7609-379-4


Format:

14.0x21.6cm


Liczba stron:

248


Wydanie:

2009 r.


Język: angielski

Dostępność:

dostępny




What role did Scotch whisky play in the development of the steam engine? Who first coined the word "alcohol"? Spirits and drink historians Anistatia Miller and Jared Brown know.

They have been on a spirituous journey since they first launched their web site Shaken Not Stirred: A Celebration of the Martini and the book by the same name. Fifteen years of travel around the world, a few worn out library cards, and thousands of pages of undiscovered research later, they have amassed their findings in the two-volume work, Spirituous Journey: A History of Drink.

This initial volume opens with the surprising discovery that ancient Arabic term "al kol" had two appropriate definitions long before Europeans learnt to distill alcohol: "1: a genie or spirit that takes on varied shapes (a supernatural creature in Arab mythology). 2: Any drug or substance that takes away the mind or covers it." From there, the authors trace the birth of spirits from China, to India, to Persia, through Europe and on to the New World.

What did people do with these potent potables long before the Cocktail was ever heard of? Miller and Brown explore the centuries-old origins of classic mixed drinks.

But they don't stop there. Spirits and the drinks made with them have close ties to some of civilisation's landmark periods including the Greek, Roman, Egyptian, Mongol, and Persian Empires as well as major historical events including the Crusades, Little Ice Age, The Black Death, the American Revolution, and the Industrial Revolution.

Published by Mixellany Limited, this illustrated black-and-white edition also introduces the cast of hundreds who inspired and developed the alcoholic beverage industry from Geber and Rhazes to Doctors Mirabilis and Universalis, from Pope Sylvester II to Pope Clement V; from Paul Revere to George Washington.
Anistatia Miller and Jared Brown are the authors of Shaken Not Stirred: A Celebration of the Martini , The Soul of Brasil, and Cuba: The Legend of Rum. They are the directors of Exposition Universelle des Vins et Spiritueux in southern France as well as the publishers of Mixologist: The Journal of the American Cocktail.